Product Catalog
For more product information or to order please email or call.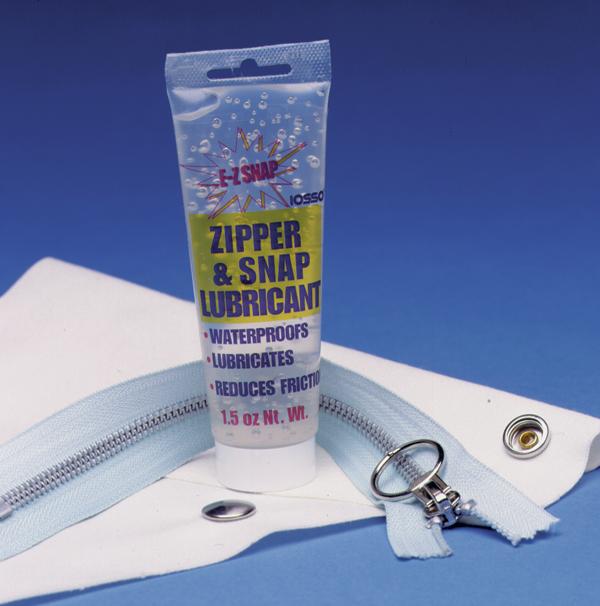 Iosso Easy Snap
Zipper & Snap Lubricant
1.5 oz
For snaps, zippers, hinges and hardware. Lubricates, waterproofs, and reduces friction. It keeps snaps from corroding and locking up. It keeps zippers free flowing. E-Z Snap will not rinse away or dissipate in hot weather. The formula is non-hazardous, and does not contain solvents, silicone or Teflon.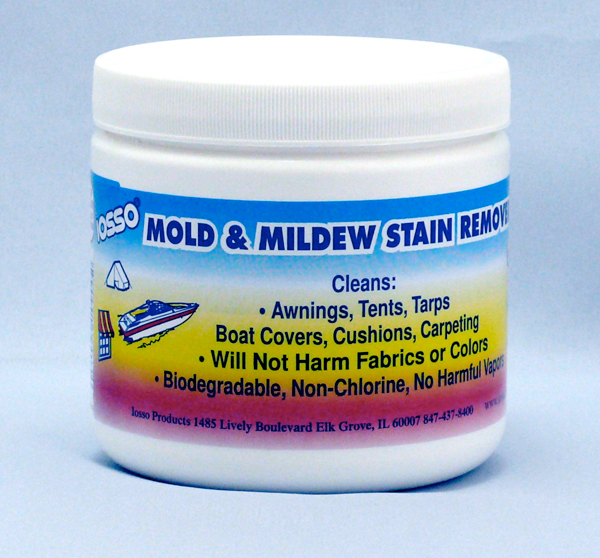 Iosso Mold & Mildew Remover
12 oz tub
Color & Fabric Safe! Removes mold, mildew, algae stain, bird droppings, spider droppings, tannin (leaf) stain, tough dirt, grease and oil, some food and drink stains, blood stains and more. Recommended for use on awnings, tents, boat covers, cushions, carpeting, umbrellas, camping gear, inflatables, fabrics, vinyl, plastic and fiberglass. It is non-chlorine, biodegradable and has no harmful vapors.

Iosso Seam Sealer
4 oz
IOSSO seam sealer prevents most seams from leaking. It works best for use on cotton, cotton blends, polyester and synthetic woven fabrics. Water repellency will vary with vinyl coated and vinyl laminated fabrics due to seam construction. It will not change the look or feel of the fabric. Ideal for boat covers, awnings, tents, backpacks, etc.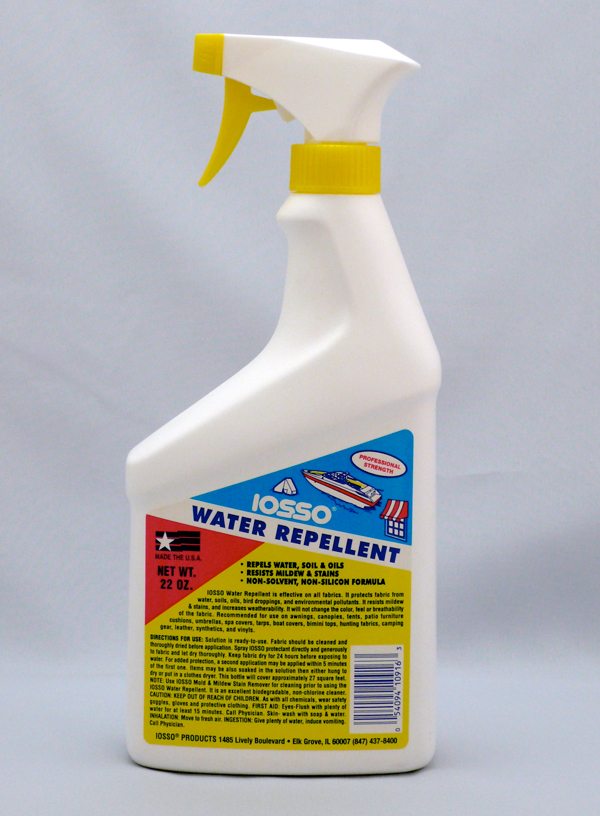 Iosso Water Repellent
12 oz spray
Effective on all fabrics. It protects from water, soils, oils, bird droppings, and environmental pollutants. Recommended for use on awnings, canopies, tents, patio furniture, cushions, umbrellas, spa covers, tarps, boat covers, bimini tops, hunting fabrics, camping gear, leather, synthetics, and vinyl. Formula is non-solvent, and non-silicon. One gallon covers up to 150 square feet.
Iosso Metal Polish
3 oz tube
Recommended for use on brass, copper, chrome, stainless steel, aluminum, magnesium, silver, gold, porcelain, fiberglass, plexiglass, hard plastics, and painted surfaces. Removes oxidation, tarnish, surface rust, and water spots. Leaves a brilliant, shiny protective coating.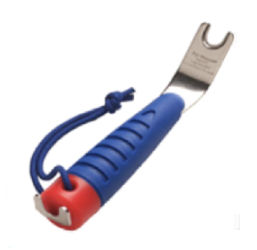 Top-Snapper Canvas Snap Tool
Specialty Tool
each
The Top-Snapper canvas snap tool takes the struggle out of snapping your boat canvas! Experienced boaters know that putting up and removing canvas top is seldom easy. Canvas shrinks, snaps corrode, and aligning snaps can quickly become a two-person job.

The Top-Snapper boat canvas tool's two stainless steel blades slip over the snap shoulder to snap and align the snap halves. The longer blade is ideal for fastening snaps from inside the boat while the shorter blade is ideal for the outside snaps. Both blades work equally well to unsnap the snaps- without tearing or ripping the canvas.

The Top-Snapper is the only canvas snap tool that will work on either the inside or the outside snaps.